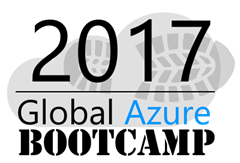 This year, I'll be presenting at the Global Azure Bootcamp in Aarhus, Denmark.
So if you want to meet with peers and learn more about Azure, this is the event you don't want to miss.
This is a full day event with lots of sessions, Ask-The-Experts and Hands-on labs. And its 100% free!
About Global Azure Global Bootcamp
Global Azure BootCamp is a free one-day training event, taking place on the 22nd of April 2017 in several venues worldwide, driven by local Microsoft Azure enthusiasts and experts. Our goal is to provide the catalyst for Azure communities to grow around the world, not just for this one day, but year-round.
Lokal site: http://gab2017-aarhus.azug.dk/
Global site: http://global.azurebootcamp.net/
Registration:
To register for the event please use the following link:
https://www.meetup.com/Azure-Usergroup-Denmark-Aarhus/events/236382174/
(Seats are limited)
/Enjoy
+Ronni Pedersen