Update: Before you read this post, check out my new guide on TechNet right here: https://gallery.technet.microsoft.com/How-to-Deploying-Office-e9f296fb
Today Microsoft has released the Office 2016 Deployment Tool.
This Tool allows administrators to customize and manage Office 2016 Click-to-Run deployments. It will also help administrators to manage installations sources, product/language combinations, and deployment configuration options for Office Click-to-Run.
The tool can be downloaded here: http://www.microsoft.com/en-us/download/details.aspx?id=49117&WT
Prepareing and Deploying Office 2016
After downloading and extracting the Deployment Tool, we need to create a download.xml that is used to download or update the installation source with the latest version of Office 365 Pro Plus (2016).
We also need to create a configuration.xml file that are used when deploying Office 2016.

Note: When you attempt to download the Office 365 ProPlus from the Microsoft content delivery network (CDN) using the Office Deployment Tool (ODT) you might get the following error message: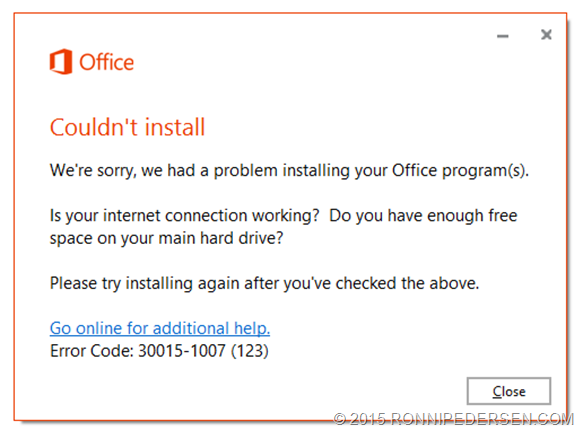 This occurs when you leave the SourcePath blank in the configuration.xml.  For example, your configuration.xml looks as follows:
<Configuration>
<Add SourcePath=" " OfficeClientEdition="32″ >
<Product ID="O365ProPlusRetail">
<Language ID="en-us" />
</Product>
</Add>
</Configuration>
To workaround this issue, you will need to specify a path (UNC or Local folder) in the SourcePath attribute of the configuration.xml file.  This requirement is for /download only and not for /configure.
More info about this bug: http://blogs.technet.com/b/odsupport/archive/2015/09/22/office-365-proplus-2016-couldn-39-t-install-error-30015-1007-when-trying-to-download-using-the-office-deployment-tool-odt.aspx
Creating the Configuration files
This is how the download.xml file that I use in my lab looks like: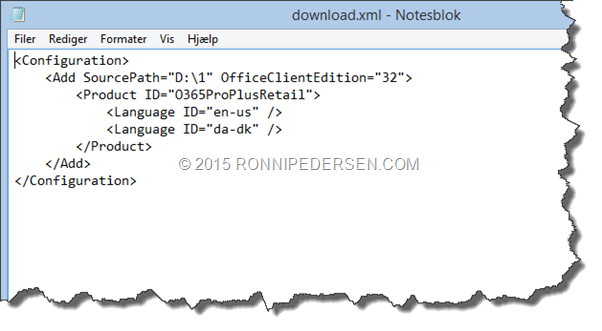 Note: There is a bug with the
And here is the configuration.xml file: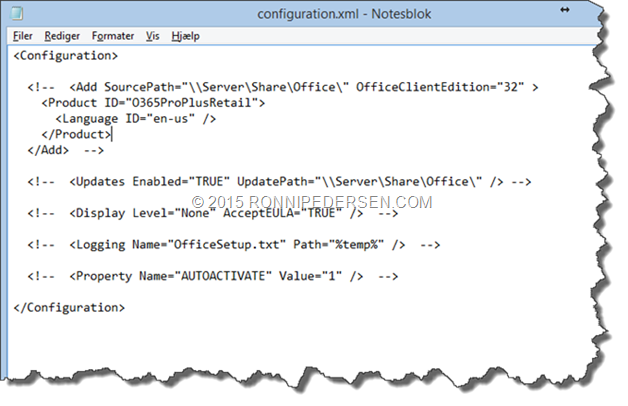 As you can see, I'm downloading both the Danish and English version but I'm only deploying one language.
Here is a cool tool that will help you create the xml files you need:
http://officedev.github.io/Office-IT-Pro-Deployment-Scripts/XmlEditor.html
Running Setup
To download the latest version you need to run the following command:
Setup.exe /download download.xml
And when the download is complete you can run the following command to install Office:
Setup.exe /configure configure.xml
That's it… Happy deployment…
/Enjoy