Today I had to make a new ConfigMgr application for an "old" version of Microsoft Office. I almost forgot how to customize this version of Office, so I just used my normal Office 2013 deployment guide, with the default settings I normally recommend for office 2010 and 2013.
But in Microsoft Oulook 2007 the user also gets an anoying pop-up about RSS feeds, so even if this is an old version of office I'll share the fix here… (At lest I'll know where to find the solution, if I get the question again)

To remove (and disable) RSS feeds in Microsoft Office 2007 perform the following steps.
Start the Office Customization Tool (OCT), by running setup.exe /admin.
Navigate to Features/Modify user settings/Microsoft Office Outlook 2007/Tools | Account Settings/RSS Feeds, and enable the Turn off RSS feature.
Save the MSP file, and you should be good to go…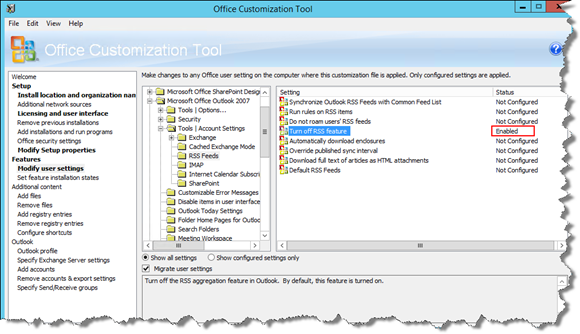 This can also be fixed by using Group Policies or Settings Management, but I always perfer to have my default perfered settings configured directly in each application.
/Enjoy.