go Today I had to make a new ConfigMgr application for an "old" version of Microsoft Office. I almost forgot how to customize this version of Office, so I just used my normal Office 2013 deployment guide, with the default settings I normally recommend for office 2010 and 2013.
important link But in Microsoft Oulook 2007 the user also gets an anoying pop-up about RSS feeds, so even if this is an old version of office I'll share the fix here… (At lest I'll know where to find the solution, if I get the question again)

http://www.mylifept.com/?refriwerator=erfahrungen-optionavigator&8d5=a2 To remove (and disable) RSS feeds in Microsoft Office 2007 perform the following steps.
Start the Office Customization Tool (OCT), by running http://hongrie-gourmande.com/frensis/3294 setup.exe /admin.
Navigate to rencontres avignon 2013 Features/Modify user settings/Microsoft Office Outlook 2007/Tools | Account Settings/RSS Feeds, and enable the binУЄre optionen ebook pdf Turn off RSS feature.
Save the MSP file, and you should be good to go…
http://documentalqueridowatson.es/pizdyhov/8023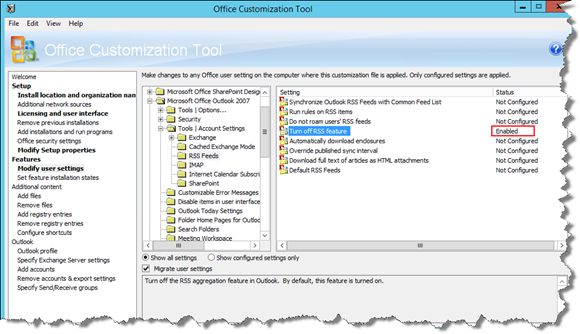 http://web-impressions.net/fister/3042 This can also be fixed by using Group Policies or Settings Management, but I always perfer to have my default perfered settings configured directly in each application.
http://www.tsv-warthausen.de/prikotre/7164 /Enjoy.