This morning, I got call from one of our internal SCCM Admins that wanted to test the newly released SCCM 2012 R2 CU4 update in his lab environment.
He had multiple test installations so he just picked an old one that he hadn't used in a while and, without checking anything, he just ran the setup. He did follow my Quick Start Guide but he skipped the preparing and checking part. What could possible go wrong?
Setup did update the Site successfully but when the creation of the packages started, the setup failed.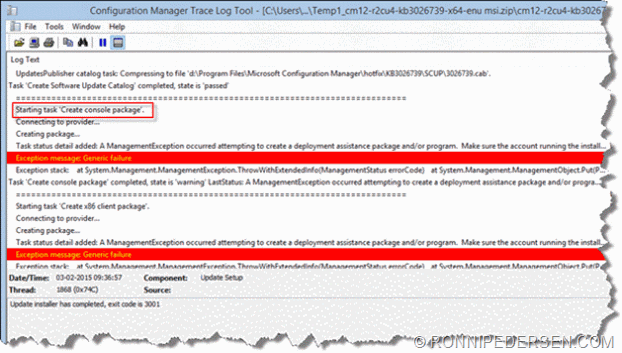 He knows that I always like to know if they find anything interesting so, being the nice guy that he is, he sent me a copy of the log file.
After looking in the log file, I did see some problems with permissions but could not see anything that would explain this behavior. I called him back to get access to the console and, after a few minutes, we both saw the problem.
He was using a trial version in his lab and the evaluation was expired.

I don't think (hope) many of you will ever see this specific error but, if you do, simply activate the server and run the setup again. It will allow you to create the packages again.
/Enjoy