OS Deployment and patch management has always been big challenge for many admins around the world. Not just the testing, but also to get the customer image patched made many ConfigMgr admins a lot older

.
One of the new features in ConfigMgr 2012 allows you to apply updates to an OS image that's been imported to the ConfigMgr 2012 library. This feature only supports "Component Based Servicing" (CBS) updates, and can be applied to Windows Vista and above.
To use this feature, navigate to Software Library -> Overview -> Operating Systems – Operating System Images, select the Image that you wish to update, and click Schedule Updates from the ribbon.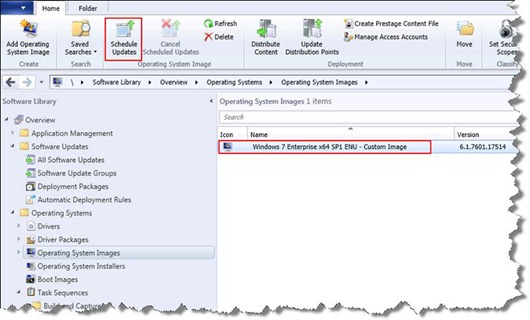 On the choose Updates page, you can select the updates that you wish to add to your image. The list only contains updates that meets the following criteria:
CBS Updates
The updates must be deployed in the ConfigMgr 2012 environment.
The updates have not been applied to the image file.
Next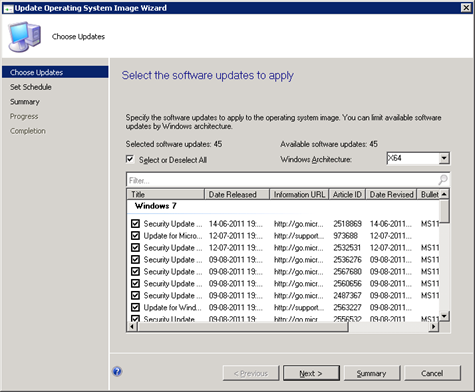 Select a time for the servicing to occur, and click Next.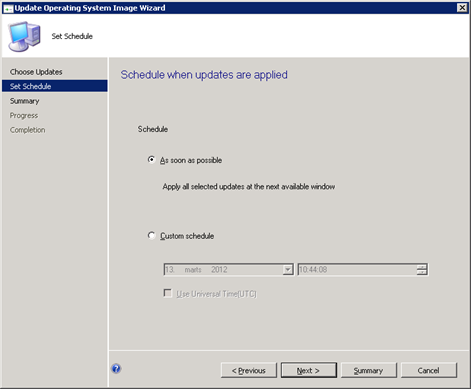 Review the summary page, and click Next. (and then Finish).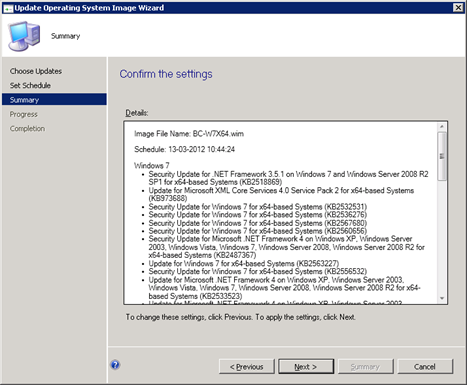 So… What happens under the hood ?
First the *.wim file and the selected updates are copied from the content library to a temp folder (D:\ConfigMgr_OfflineImageServicing). To speed up the build process, you might want to exclude this folder in your anti-malware scanner.
The wim files gets mounted in the temp folder, and the updates are applied (using DISM). If the *.wim contains more than one image, all images in the *.wim file will get the updates applied.
If the process complete successfully, the wim is restored to the package source. The original copy of the .wim file is saved as a backup copy (*.wim.bak).

After the process is completed, the update status can be viewed from within the console.
To view the updates that are applied to an image, select the image and click Properties (in the ribbon), and select the Installed Updates tab.
Only updates that's installed through the Offline Service feature, will be displayed here.
When everything is complete, and you're happy with the result, you still need to perform an "Update Distribution Point" action on the image, in order to get the new updated image deployed to your clients.
Monitoring and Troubleshooting
You can monitor the update process a couple of different places.
In the console. Software Library -> Overview -> Operating Systems – Operating System Images.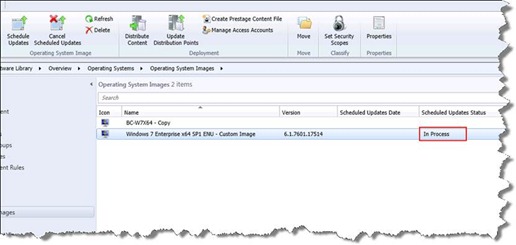 Most ConfigMgr admins love the log files

, and this process has a log file too (OfflineServicingMgr.log).
This log file is very useful, and are also great for troubleshooting.
Notice that the commit changes process was almost an hour, so please be patient when you test this feature in your lab.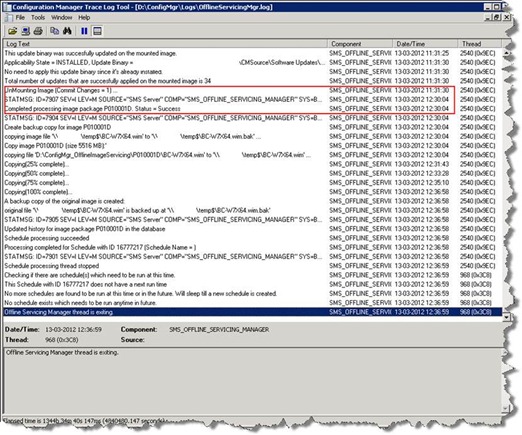 Happy patching