The Windows 8.1, Windows Server 2012 R2 and Windows RT 8.1 Update has been released on MSDN, and will be avalible to all users from Windows Update next week.
And finaly Microsoft has fixed what Windows 8 should have been from the start. This is truly a great update that improves the user experience when using Windows on a desktop without touch.
More information on the Windows Experience Blog:
http://blogs.windows.com/windows/b/windowsexperience/archive/2014/04/02/windows-8-1-update-important-refinements-to-the-windows-experience.aspx
If you can't wait until next week and wants to install this awesome update now, here is the recommended install order of the hotfixes that are included in the download:
1.  KB2919442
2.  KB2919355
3.  KB2932046
4.  KB2937592
5.  KB2938439
6.  KB2949621
Happy patching….
But it doesn't stop there…. The next update (update 2 or whatever the name will be be), will bring back the the start menu as we know it…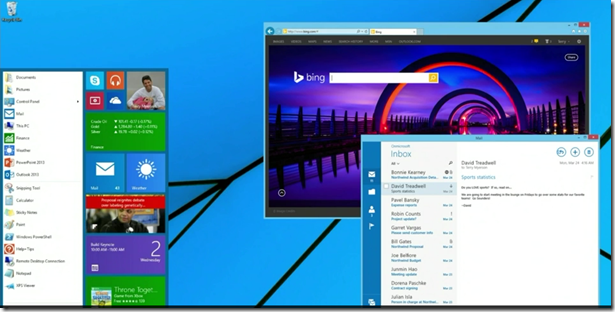 Note. This screenshot is not from the Windows 8.1 Update release in april 2014. It from the next update, and the release date has not been announced yet
Enjoy.