http://notzero.in/?viowpew=souper-rencontre-st-hubert&cec=db I'm proud to announce that I've been invited to speaking about Protecting Cloud Identities using Azure MFA and EMS, at the Azure Saturday 2017 event in Copenhagen. Azure Saturday is a premium community driven event for Developers, IT-Pros and Cloud Architects. Check it out!
site de rencontre pour vacances Although it's called Azure Saturday they could not pack all the content into one day, so the conference takes place on September 1st (Azure Friday) and September 2nd (Azure Saturday) and features both tech-talks and practical use-cases of Azure.
things to know before dating a virgo man Full Agenda : https://azuresaturday.dk/agenda/.
Check out the the awesome speaker line-up: https://azuresaturday.dk/speakers/.
More information and registration: https://azuresaturday.dk/.
advice And don't forget to follow @ronnipedersen, @azugdk and #AzureSaturdayDK on twitter for the latest updates.
My Session: Protecting Cloud Identities using Azure MFA and EMS
http://lokoli.com/?rtyt=recherche-site-de-rencontre-gratuit-badoo&84e=bf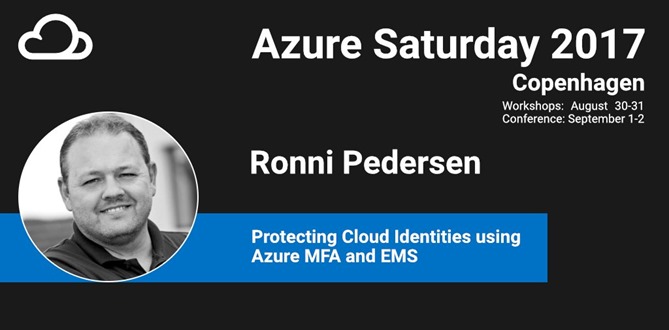 visit our website The vast majority of security breaches take place when attackers gain access to an environment by stealing a user's identity. Over the years, attackers have become increasingly effective in leveraging third party breaches and using sophisticated phishing attacks. As soon as an attacker gains access to even low privileged user accounts, it is relatively easy for them to gain access to important company resources through lateral movement.
film en streaming rencontre a wicker park In this demo heavy session, you will learn how Azure Identity Protection, Azure Multi-Factor Authentication (Azure MFA) and the Microsoft Enterprise Mobility + Security (EMS) suite can help you to protect and secure corporate data and identities in the cloud.
hookup vienna More information: https://azuresaturday.dk/sessions/protecting-cloud-identities-using-azure-mfa-and-ems/
rencontres metalleux gay Looking forward to see to you in Copenhagen.
+Ronni Pedersen